ELMOFO SREV Electric Race Vehicle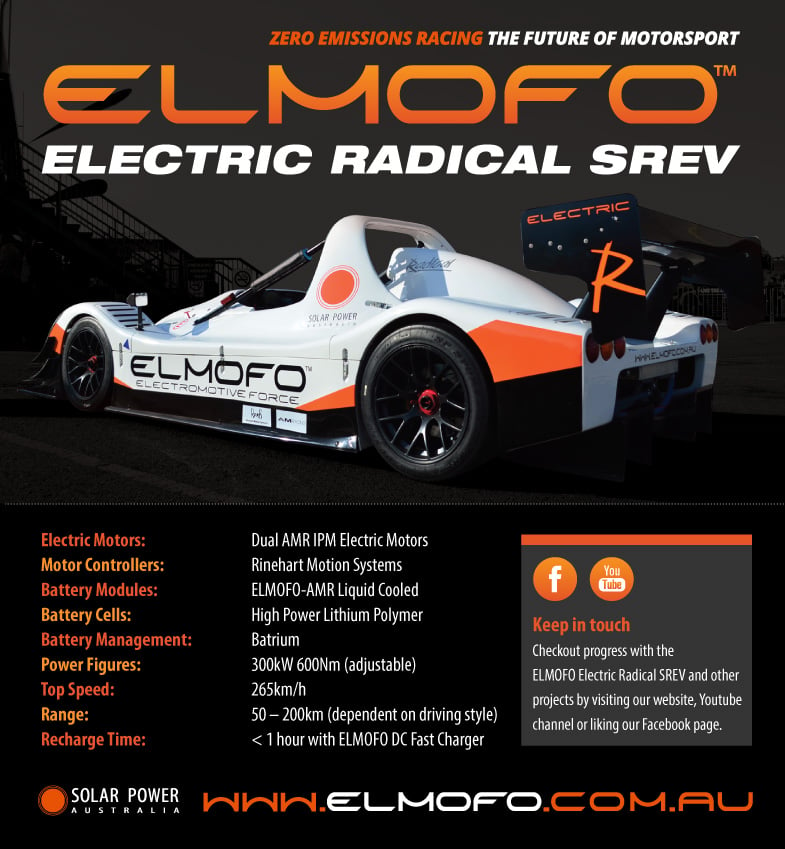 The ELMOFO SREV is a high performance Electric Race Vehicle based on a Radical SR8 chassis. ELMOFO built the electric powered SREV Radical to mix it up on the race track with the extremely high performance V8 powered Radical SR8s. Our performance modelling indicated that we will have more power and torque than the V8, but would be carrying a lot more weight.

The ELMOFO SREV Electric Race Vehicle is competing in the 2014 NSW Supersports State Championship race series and is racing head to head with it's Hayabusa and RPE V8 petrol powered brethren along with other Supersports cars. This is the first electric race car in Australia, and possibly the world, to compete against petrol powered equivalents in a recognised sanctioned circuit race series on their own terms.
The car performed well in the early rounds of the series, and in Round 4, driver Garth Walden secured wins in Race 1 and Race 2. This is another world first for ELMOFO.
Our mobile 100kW DC Fast Charger enables the team to compete in multiple races in a meeting without any special consideration for time to recharge the vehicle. Our DC Fast Charger incorpates a large Lithium storage pack that is capable of rapidly recharging the car up to 3 times without external power input. The storage pack is recharged predominantly with solar generated energy.....so this is a big leap towards Zero Emission Electric Vehicle Racing!
The Radical SR8 chassis and body design provides high aerodynamic down-force for physics-defying grip and cornering. The Radical SR8 is not able to be registered for on-road use in Australia, but it can be in England, much of Europe and some other parts of the world. The Radical SR8 currently holds the two (2) fastest Nurburging lap times for a road registered vehicle.
The ELMOFO SREV Electric Race Vehicle features some of the highest performance EV components currently available. Some of these components have been designed and built specifically for this vehicle, but will have uses in other performance projects. These include a prototype dual-inline stack AC electric motor and prototype high output Lithium battery modules.
Updated photos and information on the vehicle will be progressively posted here, so stay tuned…
Additional information and updates can be found on the ELMOFO facebook page.