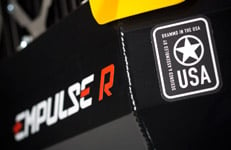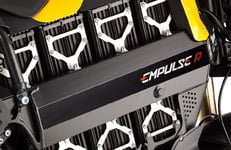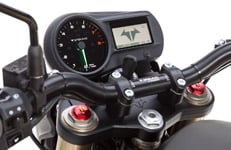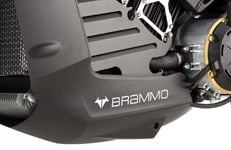 The 2014 Empulse is an evolution of the highly acclaimed, award winning 2013 Empulse. With its unique water cooled motor, six speed gearbox and integrated J1772 rapid charging, the Empulse remains as the market leader in the category. A top speed of 110mph (177kph) and a 3kW onboard charger means the Brammo Empulse retains its crown as the world's fastest electric motorcycle in serial production both riding and charging. The 2014 Empulse embodies many new and improved components making it an EV technology tour de force.
A full 10lbs (4.53kg) of weight is removed from the Empulse, further improving performance, handling, and range. With the ground-breaking IET integrated 6-speed transmission, the Empulse is able to translate its 90Nm (66 lb-ft) of electric motor torque to over 880Nm (650 ft-lbs) at the rear wheel*. That's enough forward thrust to relegate direct-drive competitors to the rear view mirrors and compel the motorcycling press to compare the substantial performance to that of 650cc twin class motorcycles.
*In first gear
Of course performance isn't everything....and so the Empulse also boasts an impressive 438 MPGe (MPG electric equivalency) (.54 litre/100km-e) fuel economy, making the Empulse a smart move from a cost of ownership perspective as one of the cheapest motorcycles on the planet to refuel.
Charging – Still the only electric motorcycle to offer a 3kW integrated onboard charger, the 2014 Empulse is compatible with Level 2 public charging stations, with no extra equipment required. An Empulse owner can charge from 20% to 80% in less than 2 hours using existing charging infrastructure. Overnight charges in your garage are no problem either as the Empulse comes standard with a J1772 charge coupler that plugs into a standard household outlet.
Battery Brackets –The distinctive Empulse battery brackets that secure the Brammo Power 15/90 battery packs are now redesigned and nickel plated, adding a distinctive and technical look to the bike's familiar profile.
Dash – The 2014 Empulse sports a redesigned LCD dash in a robust waterproof housing, which displays a wide range of riding metrics including: battery SOC (State-of-Charge), roadspeed, motor speed, odometer, energy use, gear position, battery status, estimated range, and system status.
Handlebars – The 2014 Empulse has changed to a tapered aluminum handlebar with oversized clamp diameter. These bars give a better overall riding position and are manufactured by Accossato in Italy specifically for the 2014 Brammo Empulse R.
Tyres – 2014 sees a move to new rubber manufactured by Continental. TheSportAttack 2 is acknowledged as the best all-round performer. Continental engineers focused on creating a sport bike tyre that can provide the best overall quality.
Colours – Two new colours are introduced to the colour palette this year. In addition to True Blood Red and Eclipsed Black, customers can now select Maillot Jaune Yellow and Neodymium Silver Metallic.
Bold new Brammo graphics – The lower body panel now sports a white Brammo logo to make identification even easier for those not yet familiar with the world leader in electric motorcycles.
Australian Availability – Australian Compliance was granted at the end of 2014, which coincided with the suspension of production of the Empulse and Empulse R. Polaris has taken control of the company and it is anticpated that the production of a "Polaris-built" motorcyle with the Empulse electric drivetrain will become available sometime in the near future.