BRAMMO Empulse R - 2014 Specifications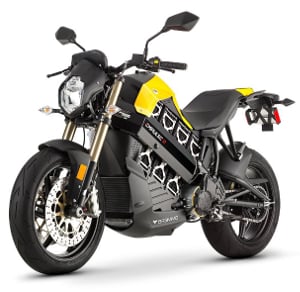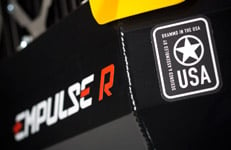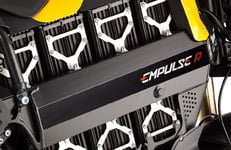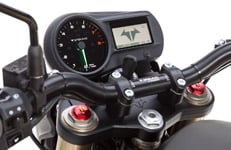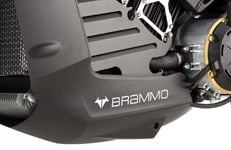 The Empulse R utilises the world's first drivetrain to be designed and built for a production electric motorcycle. It features a water-cooled AC motor, IET™ high performance 6 speed transmission and Brammo's unique BPM 15/90 battery modules. This drivetrain package endows the Empulse R with rapid off-the-line acceleration, sustained high speed and industry leading range.
Unique for a production electric motorcycle, both Empulse models also have a J1772 Level II on-board charging system, allowing riders to easily take advantage of the growing number of charging stations being installed in cities around the world. Just two hours of Level II charging will take the Empulse from 20% to 80% state of charge. Every 10 minutes of charging adds 8 kilometres of range.
With its head turning good looks and two up carrying capacity the Empulse R is the most desirable production electric motorcycle in the world.
Motor Type
Parker GVM IPM
Motor Controller
Sevcon Gen 4, Size 6 (650A peak)
Peak Motor Power
40kW, @ 4,500 rpm (54 hp)
Peak Torque
90Nm (66 foot pounds) – Empulse
Final Drive
Direct Chain Drive (14/48) 520 O-ring chain
Transmission
IET™ 6 speed gearbox with multi-plate, hydraulic activated wet clutch.

Emissions

None

Battery Type
Brammo Power™ BPM15/90 Lithium-Ion (NCM Chemistry)
Battery Pack Capacity
9.31 kWh (nominal), 10.2 kWh (max)
Battery Pack Voltage
103.6 V (nominal), 117.6 Vdc (max)
Recharge Time
2.0 hrs (typical, Level II charging from 20 to 80% SOC)
3.5 hrs (maximum, Level II charging from 0 to 100% SOC)
8.0 hrs (maximum, Level I charging from 0 to 100% SOC)

Battery Life

1,500 cycles (approx.160,000 km) to 80% initial capacity

Max Speed
177 km/h
Driving Range
City: 206 km*
Highway: 93 km **
Combined: 129 km***


*SAE City Riding Range Test Procedure for Electric Motorcycles
(variable speed, 30km/h average)
**SAE Highway / Constant Speed Riding Range Test Procedure for Electric Motorcycles
(113 km/h sustained)
*** SAE Highway Commuting Cycle (.5 City weighting, .5 Highway weighting)

Regenerative Braking
Under deceleration, energy is returned to the battery system to both extend driving range and provide familiar rider feedback.

Data Collection



Brammo DDC™ (Dynamic Data Collection) records key motorcycle parameters at 1Hz (1 sample/second) for analysis and service support.


Frame
Brammo E-Beam Aluminum, Fabricated by Accossato in Italy
Sub-Frame
Tubular Steel, Fabricated by Accossato in Italy
Swing Arm
Tubular Steel, Fabricated by Accossato in Italy
Suspension – Front
Fully Adjustable 43mm Marzocchi Forks
Suspension – Rear
Fully Adjustable Sachs Shock
Brakes – Front
Dual 310mm Brembo floating disk with twin four piston Hydraulic Brembo Brake Calipers, Radial Mount.
Brakes – Rear
Brembo single disk with dual piston Hydraulic Brembo Brake Caliper
Wheels – Front / Back
17" x 3.5" Marchesini / 17" x 5.5" Marchesini
Tires – Front / Back
Continental 120-70 ZR17, 58W / 180-55 ZR17, 73W

Instrumentation

LCD display; speed, tach, odometer, gear position, energy consumption, battery status, estimated range and system status

Weight
213 kg
Seat Height
80.0 cm
Width
80.77 cm (bar end-to-bar end)
Height
108.2 cm (highest portion of the dash)
Length
206.5 cm
Ground Clearance
18.54 cm
Rake/Trail
24° / 3.8"
Storage Capacity
Optional Brammo hard side bags by GIVI.
Carrying Capacity
Cargo Capacity 167 kg
(380 kg total combined motorcycle, rider, passenger and cargo)

Wheelbase

147.32 cm

Two year limited factory warranty. Five year or 50,000 miles, whichever comes first, limited warranty on the battery modules. www.brammo.com/battery_warranty/

Empulse R : True Blood Red, Eclipsed Black, Maillot Jaune Yellow, Neodymium Silver Metallic